Robin Roberts, 62, well-known for being the anchor of ABC's "Good Morning America," finally married her longtime partner, Amber Laign. The couple's love story dates back 18 years, when their mutual friends set them up on a blind date.
Interestingly enough, both women said it had taken a year of canceled first-date attempts between the two of them before their friends eventually got them together. After a fair bit of convincing, the ladies agreed to meet each other with friends, and Roberts said she would indicate if the date was going well by kicking their mutual friend under the table.
Roberts recalled how it had only been a few minutes into the meeting when she was already kicking the mutual friend. Of their initial encounter, Laign reminisced:
"I remember just walking up and she's just beautiful, and she took my breath away, and she still does."
After hitting it off, the lovebirds began to date, unbeknownst to the broader public. It was not until eight years later, in December 2013, that the duo went public with their relationship. While giving thanks to the plethora of people who supported her during a health scare she faced years ago, Roberts expressed her gratitude for Laign:
"…I am grateful for…my long time girlfriend, Amber…"
Roberts's acknowledgment of Laign marked the first time the news anchor publicized both her sexuality and her relationship with her partner. The publicizing of their relationship happened after Roberts survived a battle with cancer.
Just shy of two years after their first date, Roberts was diagnosed with breast cancer. Being the devoted partner she is, Laign stuck by Roberts's side throughout her journey to recovery. When Roberts's mother passed, she was then diagnosed with myelodysplastic syndrome.
Again, Laign was there for her as she underwent a lifesaving transplant. A couple of years later, Laign lost her dad and faced a significant health battle of her own: she was diagnosed with breast cancer in 2022. This time, Roberts stepped in as a caregiver and remained by Laign's side as she underwent chemotherapy and surgery.
Fortunately, both partners were healed of their afflictions and are in a much better place today. While reflecting on the difficult times during their relationship, though Roberts admitted that she and Laign went through rough patches, she said the harrowing experiences only brought the couple closer together:
"We could have walked away at any time, and we didn't."
Robin Roberts Tied the Knot with Amber Laign in the 'Best Wedding Ever'
On September 8, the "Good Morning America" host and Laign married in their backyard in an intimate ceremony. The pastor who officiated the wedding was Roberts's childhood pastor.
Both brides looked stunning, dressed in custom-made gowns made by fashion designers James Mischka and Mark Badgley. Of the elegant wedding dresses, one fan who saw pictures of Roberts and Laign marveled:
"Beautiful dresses, so classy!! Congratulations."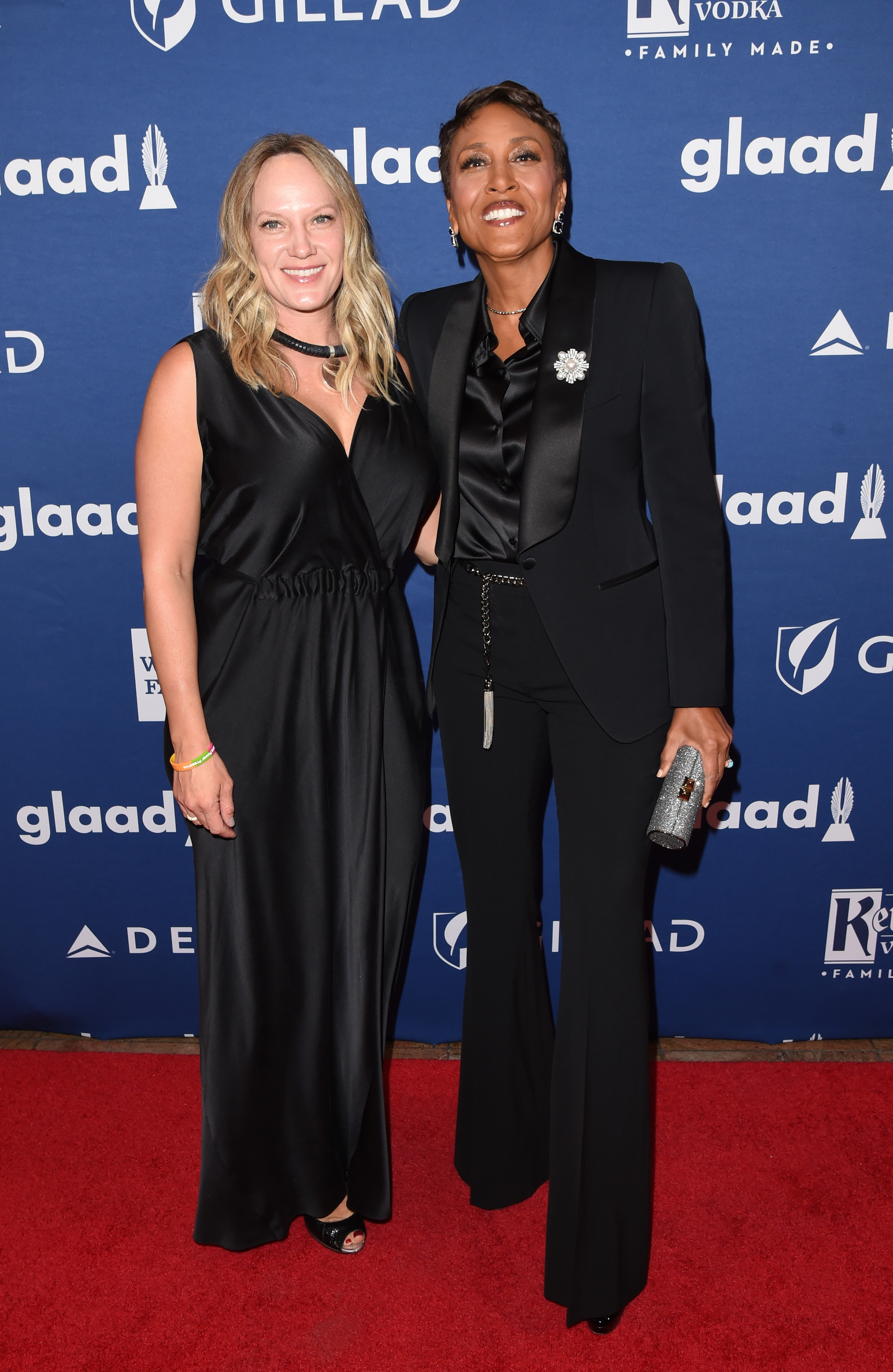 Amber Laign and Robin Roberts at the 29th Annual GLAAD Media Awards in New York City, 2018 | Source: Getty Images
Following the ceremony, Laign and Roberts celebrated with guests at a dazzling garden-themed reception. Upon the newlyweds entering the venue, a violinist played "Can You Feel The Love Tonight."
The festivities continued with friends and family dining and conversing at round tables, ordering custom-made drinks, delighting in a delectable Vincenzo Salvatore Cakes wedding cake, and hitting the dance floor. Of the enchanting wedding, fellow "Good Morning America" colleague Gio Benitez gushed:
"Just so much beauty inside and out…Best wedding ever."