Jason Aldean is tackling his latest controversy with his wife, Brittany, by his side.
Aldean's new single, "Try That in a Small Town," has sparked backlash for its perceived racist content and had its music video pulled from Country Music Television (CMT).
"Try That in a Small Town" was released in May, and the lyrics speak to small towns not putting up with riots and lawlessness many cities faced in the summer of 2020.
Some of the lyrics in the song included in Aldean's forthcoming, as-yet-untitled album include, "Got a gun that my granddad gave me, They say one day they're gonna round up, Well, that s–t might fly in the city, good luck, Try that in a small town, See how far ya make it down the road, You cross that line, it won't take long, For you to find out, I recommend you don't, Try that in a small town."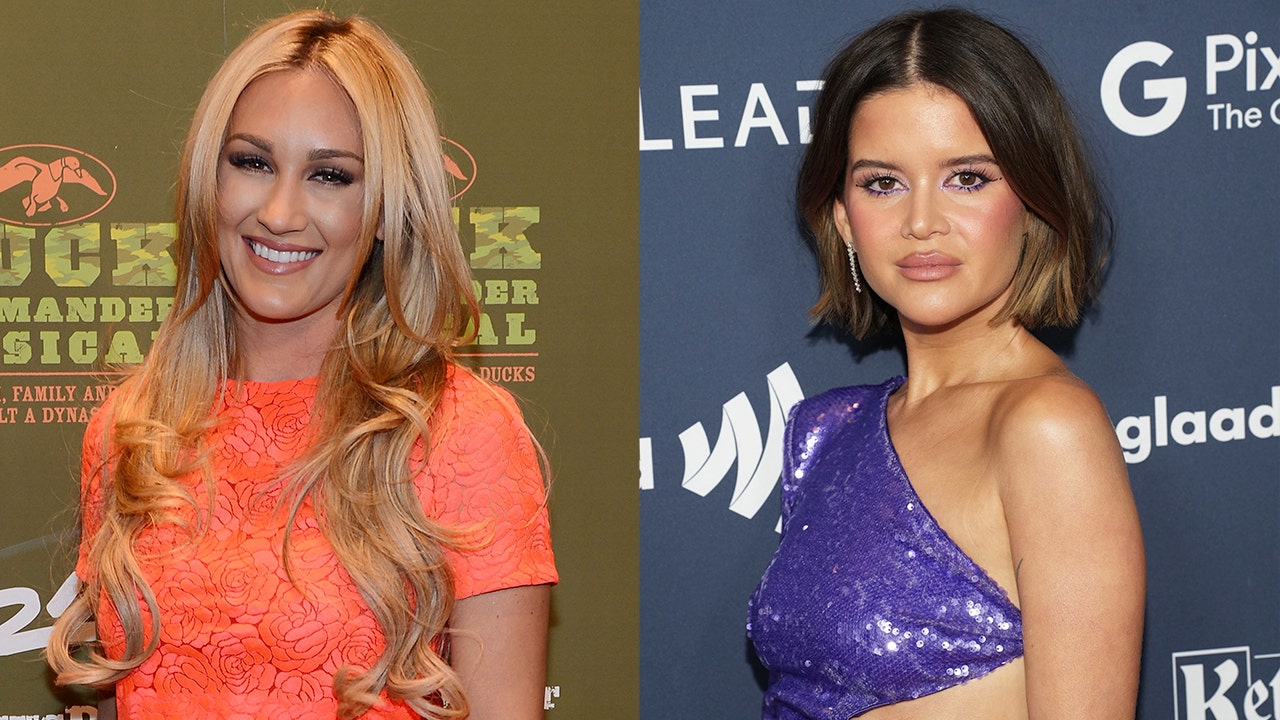 Brittany Aldean and Maren Morris faced off on social media over Aldean's comments about her "tomboy phase" (Denise Truscello)
Scenes from the music video were shot outside the Maury County Courthouse in Columbia, Tennessee, where an 18-year-old Black man named Henry Choate was lynched in 1927. The courthouse was also a pivotal site during the Columbia race riot in 1946.
The video also includes footage of protesters vandalizing cities, flipping off police officers and burning flags, assumed to be from the wave of police brutality riots during the height of the pandemic in 2020.
CMT confirmed to Fox News Digital on Tuesday that the clip was pulled from its rotation but did not provide more context for the decision.
On Wednesday, the production company for the music video, TackleBox, confirmed the music video was shot at Maury County Courthouse, adding that it is a "popular filming location outside of Nashville." Several music videos and movies have filmed there, including the Lifetime Original movie "Steppin' into the Holiday" with Mario Lopez and Jana Kramer. TackleBox also noted that the location was featured in a Runaway June music video for their 2019 song "We Were Rich," the 2022 Paramount holiday film "A Nashville Country " with Tanya Tucker, and Miley Cyrus' 2009 film "Hannah Montana: The Movie."
In its statement, the company said, "Any alternative narrative suggesting the music video's location decision is false," and noted that Aldean did not pick the location.
In the wake of the music video being pulled and general outcry over the song, Aldean took to social media on Tuesday to speak out.
"In the past 24 hours I have been accused of releasing a pro-lynching song (a song that has been out since May) and was subject to the comparison that I (direct quote) was not too pleased with the nationwide BLM protests," Aldean shared with his nearly 8 million fans across social media.
"These references are not only meritless, but dangerous," he continued. "There is not a single lyric in the song that references race or points to it- and there isn't a single video clip that isn't real news footage -and while I can try and respect others to have their own interpretation of a song with music- this one goes too far."
He further clarified the meaning of the song, writing, "'Try That In A Small Town,' for me, refers to the feeling of a community that I had growing up, where we took care of our neighbors, regardless of differences of background or belief. Because they were our neighbors, and that was above any differences."
Jason and Brittany Aldean have been outspoken about their political beliefs, often courting controversy. (Axelle / Bauer-Griffin / FilmMagic / File)
He added, "My political views have never been something I've hidden from, and I know that a lot of us in this Country don't agree on how we get back to a sense of normalcy where we go at least a day without a headline that keeps us up at night. But the desire for it to- that's what this song is about."
The 46-year-old also mentioned his experience during the Route 91 Harvest festival mass shooting in Las Vegas in 2017, which ultimately left 61 dead and hundreds wounded.
"And so many pointed out, I was present at Route 91, where so many lost their lives- and our community recently suffered another heartbreaking tragedy. NO ONE, including me, wants to continue to see senseless headlines or families ripped apart."
Regarding the music video, Aldean's wife, Brittany, offered her support on social media, sharing a selfie of the couple while on the beach and writing, "Never apologize for speaking the truth."
She also went on her Instagram Stories, writing, "Media… it's the same song and dance. Twist everything you can to fit your repulsive narrative. How about instead of creating stories, we focus on the REAL ones such as CHILD TRAFFICKING? Food for thought."
Last year, Brittany shared a "get ready with me" video on her social media of her applying makeup with the caption, "I'd really like to thank my parents for not changing my gender when I went through my tomboy phase. I love this girly life."
Aldean commented on her post, writing, "Lmao!! Im glad they didn't too, cause you and I wouldn't have worked out."
The caption spurred reactions from people feeling the comment was transphobic, including country music stars Cassadee Pope and Maren Morris.
Pope tweeted that celebrities could "see the positives in including LGBTQ+ people in their messaging" while Morris wrote on Twitter, "It's so easy to, like, not be a scumbag human? Sell your clip-ins and zip it, Insurrection Barbie."
Brittany responded in an Instagram Story, writing, "Advocating for the genital mutilation of children under the disguise of love and calling it 'gender affirming care,' is one of the worst evils. I will always support my children and do what I can do protect their innocence."
Amid the controversy, Aldean's public relations firm, the GreenRoom, announced they would no longer be representing the country star.
"Music has always been and remains The GreenRoom's core focus, so we had to make the difficult decision after 17 years to step away from representing Jason," Tyne Parrish, co-owner of GreenRoom, said in a statement to Billboard. "We aren't the best people for the gig anymore, but will always be big fans of his music – he is one of the greatest live entertainers in country music."
In the wake of being called "Insurrection Barbie" by Morris, Brittany debuted a line of Barbie-inspired T-shirts emblazoned with the phrase "Don't tread on our kids." In a post shared to her Instagram Story, she said proceeds from the clothing line will go toward Operation Light Shine, a charity to "help fight child exploitation and human trafficking."
In 2021, Brittany shared photos on her Instagram showing herself wearing an "Anti Biden Social Club" T-shirt and her children with Aldean, Memphis and Navy, wearing T-shirts that read "Hidin' from Biden." (Aldean was not wearing any political clothing in the image.)
After negative reaction to the shirts, Aldean came to his wife's defense.
"I will never apologize for my beliefs or my love for my family and country," Aldean wrote in the caption of an Instagram post, featuring him silhouetted against the American flag.
"This is the greatest country in the world and I want to keep it that way," he added with the hashtag #unapologetic.
Aldean reiterated his comments a month later on Audacy's "Rob + Holly," saying he's not afraid of being canceled.