When a uniformed officer took his wife to Outback Steakhouse for a nice evening meal, the couple was shocked and dismayed when the manager kicked them out. However, when it was revealed why they were forced to leave, the restaurant was made to regret the decision.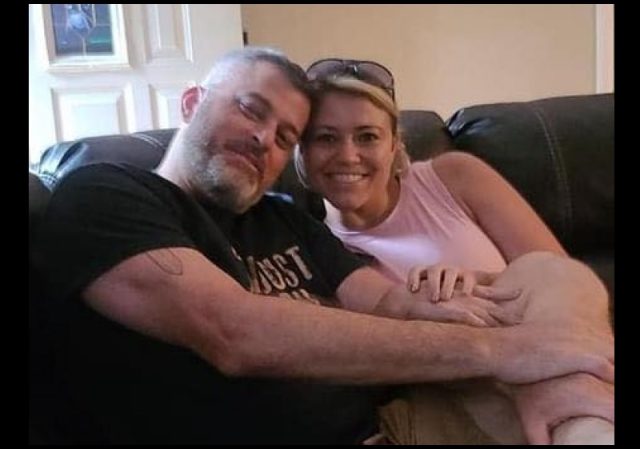 Officer Andrew Ward and his wife Amanda (Credit: Facebook)
Andrew Ward, a Tennessee Wildlife Resources Agency (TWRA) officer, picked up his wife Amanda on a Friday night and decided to take her out to dinner at Outback Steakhouse while in uniform. Little did the couple know that their evening would be ruined by their choice of restaurant.
Many law enforcement officers patronize eating establishments while on duty and in uniform. Even though they are taking their assigned break to eat, they are still required to have their firearms on them at all times in case of an emergency. This is the situation Officer Ward found himself in when he took his wife out to dinner.
According to Local 3 News, "A Tennessee Wildlife Resources Agency officer was asked to leave the Outback Steakhouse in Cleveland Friday night because he had his service weapon on him. In a public post on Facebook, Andrew Ward shared about the experience. He said he was asked by a manager to remove his weapon and put it in his vehicle. He explained that he had to have it on his person because he was in uniform."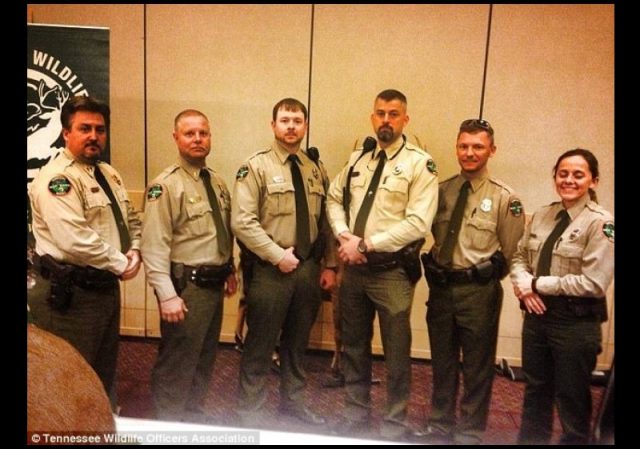 Officer Andrew Ward (fourth from left) with his colleagues (Credit: Screenshot)
The manager walked away, made a phone call, then returned and asked both Ward and his wife to leave. The manager said that Outback Steakhouses are "gun-free zones." Officer Ward went on to further explain the situation. "I don't blame the manager… but this is ridiculous and we will never go back there ever again," Ward said on Facebook. "A uniformed Law Enforcement Officer who is sworn to protect and serve the public, is refused service because they have a firearm! I am disgusted and have no other words!!!"
In a follow-up Facebook post, Ward shared why the manager confronted him. He says a patron at another table reported being scared for her life. "She said police are shooting people, and she could have gotten shot in the parking lot, and the manager had to [walk] her and her husband to their vehicle," Ward wrote. "We were told it was a policy they don't allow guns – if we would have known there was a complaint we would not have went anywhere! Seriously, she was scared for her life? We were joking and laughing with our server as we ordered, then prayed. What was scary about that?"
Outback Steakhouse in Cleveland, Tennesee (Credit: Screenshot)
Ward said Outback contacted him and apologized. They also gave him a $100 gift card, but this was too little too late for many in the community. According to a local news network, Officer Ward's Facebook posts went viral and had been shared more than 150,000 times.
As the story gained traction in the local media, Outback issued a statement. "We've always allowed uniformed law enforcement officers to carry their sidearms while dining with us," Outback's spokesperson said. "A manager made a mistake. We have contacted the guest personally and apologized."
Bradley County Sheriff Eric Watson also released a statement. "I was very saddened to hear the reports of a law-enforcement officer who was asked to leave a restaurant in this community," he wrote. "While I truly respect the restaurant for reaching out to the officer, our community must also show support to the men and women who place the badge on their chests every single day in order to protect the establishment in which the officer was asked to leave."